19th June 2020
Water Vision is proud to announce the release of its new stylish Wall Mount Display. This display features our new processor with many added advanced features, like Over The Air (OTA) updates, the ability to have up to 16 tanks and 12 pumps on one system, plus many more. OTA means you will a
lways have the latest software version and the latest features. Buy once and always be up to date. Wi-Fi is built in and the mobile apps are free.
The wall mount display is designed and manufactured to ISO standards in New Zealand and is backed by our 2 year warranty.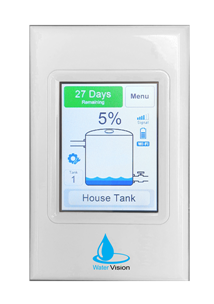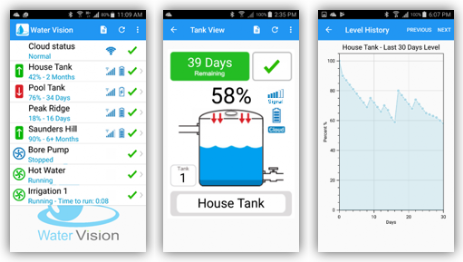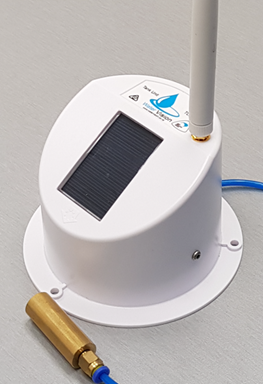 24th September 2019
Water Vision's latest version 1.82 of the mobile apps in now online at Apple App Store and the Google Play Store. Just search for "Water Vision" on the stores. The new apps support the finer 5 day level history, the new signal level icon and much more that we will be releasing in the future. As the world's leading wireless water level system, Water Vision is constantly innovating so that we can continue to lead the market.
17th September 2019
Water Vision is proud to announce the release of its new Pneumosense Tank Unit (nicknamed Pneumo for short). Pneumo only requires a hole as small as 5mm, near the hatch, to gain access to the tank that needs to be monitored and can work with fluid depths up to 5 metres. Pneumo can also be mounted up to 20 metres away from the tank, allowing underground tanks to still be wireless and solar powered, and for easy elevation for better signal level and protection. Pneumo has no electronics in the water, so there is much less chance of anything going wrong. Pneumo's features make it the world's leading tank level monitoring unit, and the easiest to install. Pneumo is also available as an active tank, which is externally powered, and is also an active signal repeater. Pneumo is manufactured to ISO standards in New Zealand and is backed by our 2 year warranty.
3rd September 2019
Water Vision is proud to present some new features for our Wireless Water Level System's touch colour display.
1/ A new tank settings icon to quickly get you to all the tank settings, with just one touch.
2/ A new clearer tank signal level indicator for tank and pump signal levels.
3/ A new 5 day finer tank level history on the touch colour display and the mobile apps.
4/ A new pump on time period, so pumps can be made to turn off at night and start again in the morning, if required.
5/ A new longer pump run timer for slow pumps and solar installations.
Water Vision will continue to keep all of it's products fresh and will continue to be the world's leading wireless water tank level system.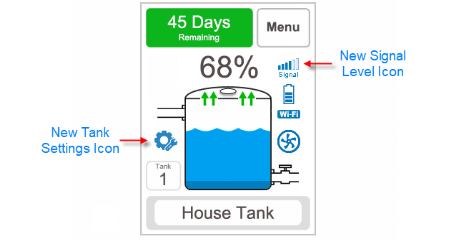 29th March 2019
Water Vision is proud to announce the release of it's new externally powered tank level monitor. This module can be mains or solar powered, like the active repeater. It's also an active repeater itself, so it can be used to relay signals from other tank modules and pump controllers further away, sometimes eliminating the need for an extra active repeater. This module also allows tanks that are inside or have no sunlight to be monitored. Stay tuned for even more new releases in the near future.
20th March 2019
Heading into the rainy seasons, it's time to start thinking about flood warnings. Water Vision can advise you on your mobile phone that the water is rising to a dangerous level, so that the appropriate action can be taken, like relocating livestock. Only Water Vision has this feature and many more. Contact us for special pricing, if you're a farm and you would like to purchase multiple tank/flood monitors or pump controllers.
19th December 2018
With a dry summer on it's way, don't leave it too late to install a Water Vision wireless water tank level system.
Water Vision is still the only wireless water tank level system with mobile apps and has more features than any other system available, like email alerts, leak detection in as little as 5 minutes, sudden loss leak detection sensitivity for each tank, user settable days remaining alert and use settable tank and pump names. Don't settle for anything less.
Water Vision would like to wish you all a very Merry Christmas and a Happy New Year.

28th August 2018
Water Vision is proud to announce the release of a new feature! Now you can receive email notifications of any abnormal status alerts. Be on the other side of the world and still be able to turn off your pumps, after receiving an email warning you that you are using an abnormal amount of water. Water Vision is the only wireless water tank level system in the world that offers this feature.
Currently this feature can be enabled by emailing or phoning us, and providing your Product ID.
21st August 2018
Be prepared for a dry summer. See this article on Stuff:
Likelihood of El
n
i
ño, and a dry summer
. Install a Water Vision now to be ready, so you always know exactly how much water you have left and how many days remaining, from the touch colour display or the mobile in your pocket.
1st May 2018
Thanks to a customer request, we are pleased to announce the release of a new pump feature. Now you can set a source start level for a pump. This allows a tank or pond to automatically start a pump when the level gets too high and then stop automatically when a lower level is reached, or a time has expired.
16th April 2018
Water Vision is proud to announce the release of a 12 volt Pump/Irrigation controller. Adding to the existing mains powered and switched Pump controller, Water Vision now offers a 12 volt variant with a dry contact. This unit can switch any voltage up to 240 volts.
2nd November 2017
Water Vision is proud to announce the release of their wireless water tank level system with cloud mobile access. This system is the most advanced system available using a touch colour display with built in Wi-Fi to allow direct connection to the internet. Using the mobile apps (for both Android and Apple iPhone/iPad), customers can view their tank information (level, trend and days remaining), and control pumps, irrigation systems and devices from anywhere in the world. The system supports up to 12 wireless solar powered tanks and up to 8 wireless pumps, irrigation systems or devices.